About Project
We invite you to visit
castles and chateaux, museums and historical technical sights, natural sights
and other places of tourist interest, sports facilities and recreational centres, cultural,
sports and social events
BY BOAT, ON FOOT OR BY BICYCLE
We offer:
Accommodation: public camping sites, tourist hostels, boarding houses, holiday homes, hotels

Places to eat out: pubs, stylish restaurants with service outside

Maps for boat riders and other advertising materials

Information about train and bus timetables

Tips for trips
Accommodation: public camping sites, tourist hostels, boarding houses, holiday homes, hotels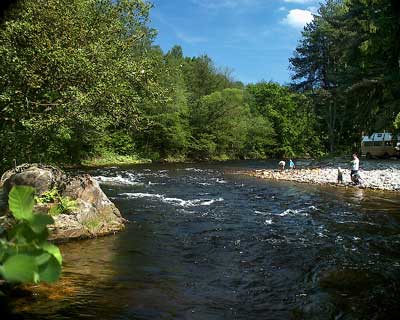 The Otava River, which was called "Oltavah" probably as early as the Celtic times, is 113 kilometres (about 70 miles) long. It comes into being on the confluence of its two sources, near Čeňkova Pila: the Vydra and Křemelná Rivers, which carry water from the highest situated places of central and western parts of the Bohemian Forest. At the beginning, the Otava River flows through a romantic valley, while in its middle and lower parts, it passes a countryside of meadows and forests. It empties into the Vltava River at the castle of Zvíkov. Not only the river itself, but also its tributaries used to contain gold-bearing sand that the water brought from beds in the mountains. Along the river, dunes left after washing gold can still be seen, forming hills of various sizes.
The history of the Otava River is very rich, and it considerably influenced the history of our country, too  ranging from the "colonisation" of the Otava region to the foundation of the medieval towns of Sušice, Horažďovice, Strakonice and Písek, and the exploitation of gold beds in the vicinity of Rejštejn and Kašperské Hory. The power of the water course was the source of energy for numerous water mills and hammer-mills, and for water power stations at the present time. The waterways were made rich use of by rafters. Until the 1930s the Otava River was an important salmon river.
At present, the Otava River is very attractive for tourists, which is due to its romantic character, natural conditions, historical sights, a large number of camping and caravanning sites, hotels, boarding houses and restaurants, numerous bicycle and hiking routes, boat hires and, last but not least, thanks to angling possibilities in the trout and barbel areas of the river. Each Czech river has its unique spirit, often enhanced by local stories and fairy-tales. In this respect, the Otava River is no exception. For most tourists and holidaymakers, a visit to the Otava region means "experiencing" the specific atmosphere of our ancient river.