Horažďovice
HORAŽĎOVICE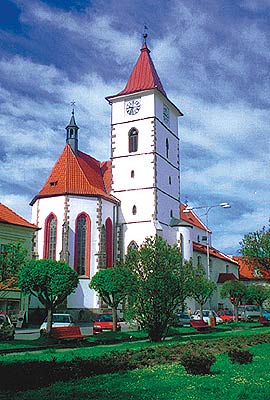 The region around the town of Horažďovice (5,800 inhabitants) has been populated for a very long time.
The Celtic name of the Otava River bears evidence of it. The beginning of settlements around Horažďovice is closely connected to the fortified castle of Prácheň, which dates back to the 12th century. The name of the town could somehow derived from the name of saint Methodius´s successor, the priest Gorazd. According to folktales, Gorazd founded a village on the place where Horažďovice is situated now. In 1997 St. Gorazd was proclaimed a patron of the town. The settlement, which is situated on the trade route from Prague to Bavaria, was elevated to town status by King Wenceslas II in 1292. At that time a Bavarian from Strakonice, a noble family, was the owner of the fortress that had been built there. During the reign of Půta Švihovský from Rýzmberk and Švihov the Monastery of Friars Minor and the town water mains were built there. The town water mains was built in 1503 and was in use up to 1932! Despite the far-reaching fires of 1619, 1627 and 1635 through which the town was badly damaged, the new owners the Šternberks, contributed significantly to the reconstruction of Horažďovice. During their 100 year reign, the church and the castle were rebuild thoroughly.
The town hall was reconstructed as well and was used until 1926. In the period of time from 1719 to 1854 one owner followed the other - none of them, however, reigned for very long. In 1854 the dominion was bought by prince Rudolf Kinsky from Vchynic and Tetov. The Kinskys remained the owners up to 1945. They also contributed significantly to the development of the town. Horažďovice was already famous in 1594 for their pearl oyster farming in the Otava River. One of the exhibits in the museum that is situated in the castle, bears witness to that. The sightseeing tours become longer each year.
Now there is an exhibition gallery in the tower. In the Na Lipkách area situated app. 200 meters from the town square there are tennis courts, a football field and  a camping site, a skateboard area as well as a large complex of swimming pools, solarium and a fitness center, which can also be used for other purposes. Horažďovice is a place of culture in which visitors can for example go to the cinema, to a library, to the disco as well as to the community center.
Information center of Horažďovice

Strakonická 152, 341 01 Horažďovice
tel,fax: +420 376 511 999
e-mail: ic@horazdovice.cz , www.sumavanet.cz/ihorazdovice